Student Travel Registration
All international student travel (graduate/undergraduate) has to be registered with the Tufts Travel Registry. However, before you register, please check whether your destination is subject to university travel review.



Not subject to any review? Time to register!

Please have the following information ready when you want to register your trip:
Travel dates and location(s):

Your contact information abroad (e.g. cell phone number abroad, hotel contact information)

Your emergency contact information abroad (e.g. friend you are traveling with, trip leader, etc. - Think: How can locate you if you cannot be reached?)
The unit on campus and contact who is sponsoring this travel (e.g. Tufts Abroad, Fletcher School - Career Service Office, Department of Biology)
Passport information (for emergency evacuation)

Scanned copy of passport (in case you lose your passport)
Additionally, you will be asked to sign a travel waiver and release form.
T
ravelling to a country with a regional DOS Travel Advisory Level 3 or 4? Click below - Global Operations will determine whether your travel needs to be reviewed.



Travelling to a country with an overall country Travel Advisory Level 3 or 4? Submit a Request for Travel Review.
---
Video: Create a Travel Registration

To see a brief demonstration on how to use the registry and what to expect, watch this brief video. You can either click on the picture or use the launch button. The video will launch in a new browser window.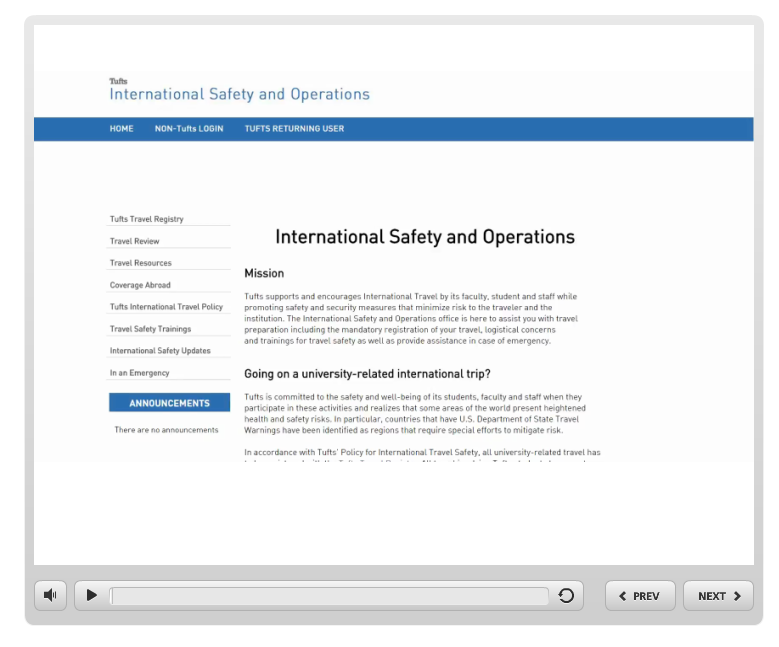 ---

Video: Existing Travel Registration

Travel Plans changed? Need to update your registration?

Watch this brief video on how to add or change information within an existing travel registration. You can click on the image or on the launch button below.