Pre-departure planning
By failing to prepare, you are preparing to fail. - Benjamin Franklin

Visa

Various factors determine if and what type of visa you may need for your location and the type of activity you wish to perform. Always check visa regulations for your location well in advance. The best source of information to determine whether you need a visa and what type of visa is the consulate or embassy of the country you wish to enter.

For preliminary advice on visa and entry/exit requirements, we encourage you to check the Tufts International SOS Communication Portal to review entry/exit and visa requirements.

You can watch this brief presentation on how to access the information. Go to the ISOS Communications Portal and then follow these steps (click on the image to start video):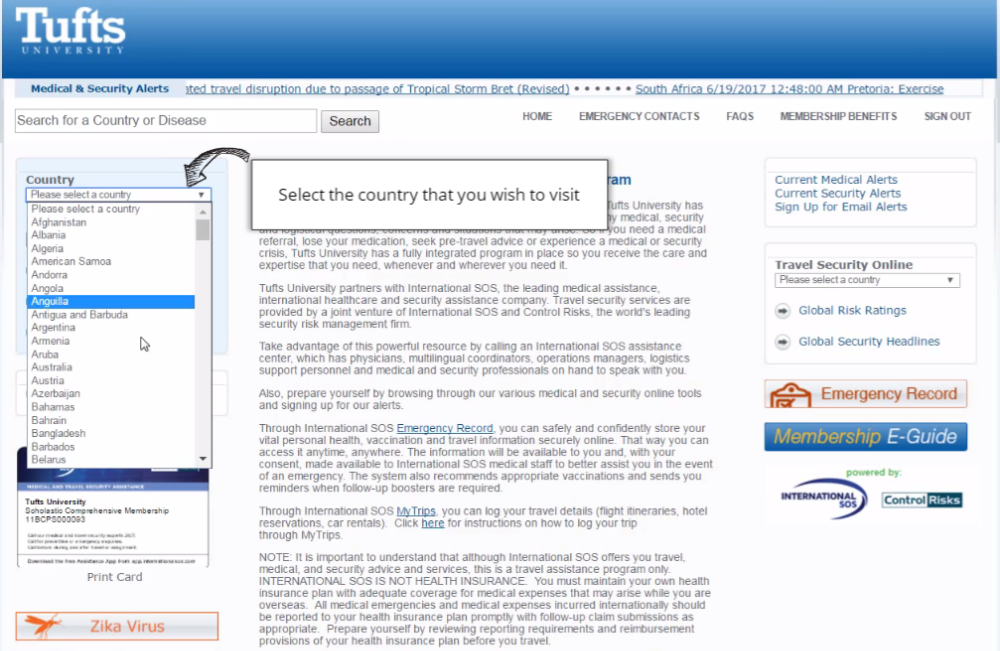 Visa processing service

You can also work through a visa processing service. Tufts Purchasing maintains a relationship with this vendor:

Passport Visa Express.com
1911 N. Fort Myer Drive, Suite 104
Arlington, VA 22209
Phone: 888-596-6028

Click here to be directed the Tufts Purchasing page for more information.


Research your destination

Your travel planning will largely be influenced by your destination, so do not delay researching your destination. Utilize the International SOS communications portal to find the answer to almost all travel-related concerns in your destination. Additionally, you can call ISOS to speak directly with a security analyst who can give you itinerary-specific advice. You can reach International SOS 24/7/365 at 215-942-8478.


Medical Risks

Research Medical Risks
Know the standard of medical care

Research transportation issues, such as access and reliability of ambulances

Know the disease risk (malaria/yellow fever/other)

Know the areas you should avoid


Make a Doctor's appointment

Discuss your destination and ensure that you have all required (and recommended) vaccinations. Start this process early (ideally at least 4 weeks prior to departure) - some vaccinations have to be administered over a period of time

Get a comprehensive physical examination

Discuss your prescriptions and check whether they are legal in your destination

Discuss any personal risk factors

Don't forget to see a dentist!

Medford Campus

Medford Campus - Health Services
You should make a travel consultation appointment. Most likely, Health Services will only have a record of the immunizations required to enter Tufts which does not include travel vaccinations. If you have, bring a record of your immunizations with you.

Health Services, Medford Campus
124 Professors Row,
Medford, MA. 02155
Tel: 617-627-3350

Health Sciences Campus

Health Sciences Campus - Tufts Medical Center

Travel Clinic
Hours: Monday from 8:30 am - 4:00 pm, Thursdays from 1:15 pm - 4:15 pm. Additional appointments may be available upon request.
Phone Number: 617-636-7010
Location: Biewend 3, 260 Tremont Street, Boston, MA

Please print this health and vaccine history form, fill out completely, and bring to your appointment. Ideally see them at least 4 weeks before your departure to have adequate time for vaccines to take effect.

If neither of these options are convenient to you, please consult this list of travel clinics in Massachusetts.

Grafton Campus

Grafton students who live in or around Boston can use the Tufts Medical Center Travel Clinic to get their vaccinations. Students who live nearby Grafton or in other parts of Massachusetts should consult the directory available through the International Society of Travel Medicine to locate a travel clinic closest to them.

Security Risks
Research your destinations local security risks, such as types of crime, crime rates and areas to avoid

Customs and Laws

Research local customs, etiquette and laws. The Do's and Dont's can be different from one part of the country to another

Research and practice the local language, learn basic vocabulary and common phrases. You may wish to carry them with you.