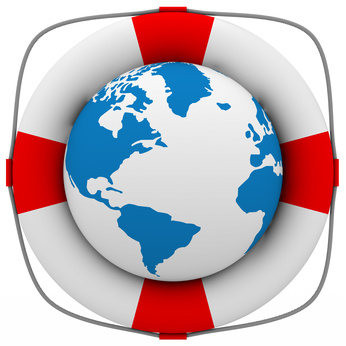 International Safety and Operations
---
Mission:
Tufts supports and encourages international travel by its faculty, students and staff while promoting safety and security measures that minimize risk to the traveler and the institution. The Global Operations office is here to assist you with travel preparation including the mandatory registration of your travel, logistical concerns and training for travel safety. We also provide assistance during an emergency.
---
Click below to see our most common request and be directed accordingly.
(Note: pop-up window will open up)
---
Traveling on a university-related trip?
If you are a student or staff member traveling on a university-related trip, you are required to register your trip with the Tufts Travel Registry per university's travel safety policy.Faculty members are strongly recommended to register.

The Tufts Travel Registry is a confidential and secure database for maintaining travel information for all Tufts affiliates conducting university-related international travel. The Travel Registry is the official and authoritative source of traveler information that forms the basis for the university's emergency response protocols and communications strategy (e.g., alerts, warnings, evacuation notices) when responding to an emergency or critical incident abroad. Registering will also give you access to free travel medical coverage.

If you are student or traveling with students, please note that any country or region that has been designated as high-risk by the US Department of State is subject to university review and approval.

To see whether your destination is subject to review, please click below. (Note:Pop-up window will open up)
Last updated: 3/2/2018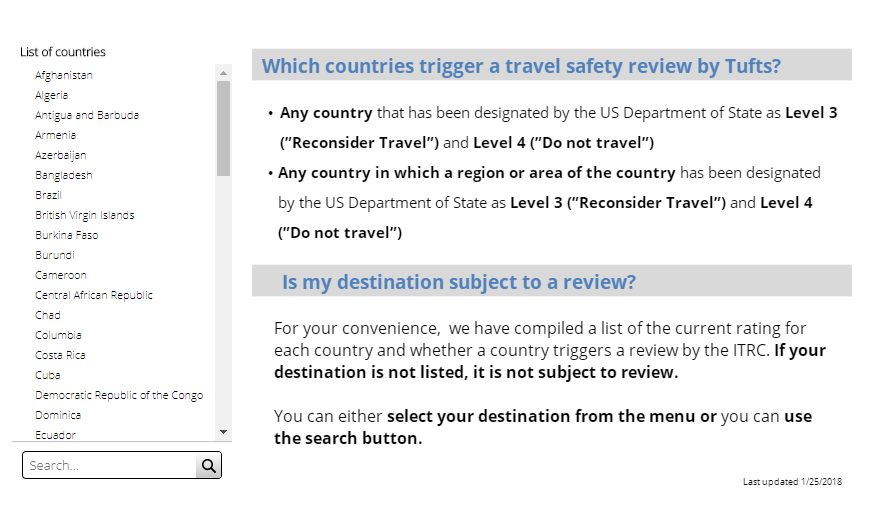 ---
Questions?
Please contact us:

Chelsea Ferrell, Program Manager
617-627-4649
Chelsea.Ferrell@tufts.edu

Claudia Jackson, Director
617-627-3762
Claudia.Jackson@tufts.edu